Do you often feel like this when talking to a printer?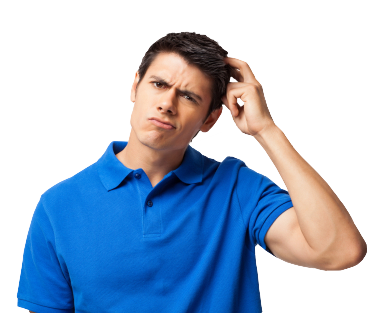 Printers often use fancy words or abbreviations such as "CMYK" or "Scodix" that can sometimes not make a whole lot of sense to someone who doesn't know a whole lot about print. Really all these fancy words are just names given to basic objects or procedures involved in the printing industry. Here at Jenkin Print Media we like to keep our clients educated on what these words and meanings mean so the whole process can be made a little easier for them. What we have decided to do is to make a brief print terminology dictionary to help our clients get more of a handle on what it is we are actually doing.
The Basic Print Dictionary
Alteration (alts) – Any changes made to a job or artwork by the customer after it has been given to the printer. Can also be called a revision.
Artwork (art) – The original copy that includes text, photos and illustrations that the clients wants printed.
Bind – Most commonly referred to when discussing book printing, the joining of individual sheets together with either wire, glue or staples.
Bleed – The art that extends past the edge of a page or sheet, most typically a 3mm bleed on all sides that is then trimmed in the finishing process.
Board paper – also called art-board stock, a term used for paper over 200 gsm which is most likely used for products like folders, displays and cards.
Carbonless paper – Paper coated with chemicals that allows the transfer of images or text when writing often used when referring to carbonless books, invoice booklets or purchase order forms.
Case bind – Binding signatures or individual sheets of paper to a binder board cover with fabric, plastic or leather using glue. Can also be called hard cover, hard bind, cloth bind or edition bind.
CMYK – An abbreviation for the four process colours Cyan (blue), Magenta (pink), Yellow and Key (black).
Coated paper – Paper with a coating of clay and other substances that improves the reflectivity of the paper. Common categories of coated paper include gloss and matt.
Collate – To organise a printing requirement in a specific order as requested.
Deboss – pressing an image into paper so it sits below the surface. The reverse of 'emboss' and is also called tool.
Die – A device for cutting, scoring, stamping, embossing and debossing
Die cut – Cutting irregular shapes in paper or paperboard using a die.
DPI – Stands for "dots per square inch" and is a measure of resolution output resolution in relation to printers, imagesetters and monitors.
Emboss – Pressing an image into paper so it sits above the surface. The reverse of deboss and is also called cameo or tool.
Fine papers – Papers made specifically for writing or commercial printing, as compared to coarse papers and industrial papers. Also called cultural papers and graphic papers.
Finish – Often referred to as the surface characteristics of a paper e.g matt or gloss laminate or used as a general term for trimming, folding, binding and all other post press operations.
Finished size – The size of the product after production is completed, also called trimmed size.
Flat size – The size of the product after printing and trimming but before folding as compared to finished size.
Format – The size, style, shape, layout or organisation of a printed product.
Gang – To reproduce two or more different printed products simultaneously on one large sheet of paper during a press run which is used for greater efficiency. Also called combination run.
GSM – The unit of measurement for paper weight (grams per square meter).
Imposition – The arrangement of pages on machines or laying flat so they will appear in proper sequence after the press sheets are folded and bound.
Impression – Refers to both the ink colour and the speed of the press, one impression equals one press sheet passing through the press.
Imprint – To print new copy or text on a previously printed sheet. Most common form of this is imprinting different employee's name on a business cards. Also called surprint.
Laminate – A thin transparent plastic sheet (coating) applied to a usually thick stock (covers, business cards, etc.) providing protection against liquid and heavy use. Also used to accent existing colour that provides a glossy effect.
Makeready – All the activities required to prepare a press or other machine to function for a specific printing job. Also called setup.
Matte finish – A flat (non gloss) finish on photographic paper or coated paper.
Offset printing – A printing technique that transfers ink from a plate to a blanket to paper instead of directly from plate to paper.
Overprint – Printing an image over a previously printed image, such as printing type over a screen tint.
Perfect Binding – To bind sheets that have been ground at the spine and are held to the cover by glue.
Perforating – A process creating a line of small dotted holes for the purpose of tearing a part of the printed sheet. Most commonly used for purchase order forms of ticket printing.
Proof – Test sheet made to reveal errors or flaws, predict results on press and record how a printing job is intended to appear when finished.
Saddle stitch – To bind by stapling sheets together where they fold at the spine commonly used for booklet printing.
Scodix – A print finish that adds a luxury look and feel to ordinary print runs by producing a raised ink experience. It is a digital enhancement printed on top of an image after the printing and laminating process.
Specifications – Complete and precise written description of features of a printing job such as type size and leading, paper grade and quantity, printing or binding method. Abbreviated specs.
Uncoated paper – Paper that has not been coated with clay, also called offset paper.
Trim marks – lines printed in the corners of a sheet of paper to indicate where the paper needs to trimmed to result in the final trimmed size.
Varnish – A liquid coating applied for protection and appearance.
We like keeping it simple if theres something your not too sure about we'd love to help you get a better understanding on it. We are more than happy to answer any questions or queries you may have on all things print. Call us today on 03 9434 3061.